S235 a structural grade steel with a minimum yield strength of 275 N/mm² which widely used in the engineering and construction industries.
S235 offers high yield and tensile strength and is supplied with a variety of treatments and test options to ensure it is a highly usable steel in your various projects.
Grade

Thickness (mm)

Min Yield (Mpa)

Tensile (Mpa)

Elongation (%)

Min Impact Energy

S235J2

8mm-100mm

215Mpa-235Mpa

360-510Mpa

22-24%

-20

27J

101mm-200mm

185-195Mpa

350-490Mpa

21%

-20

27J

201mm-400mm

165-175Mpa

330-480

21%

-20

27J
The technical delivery conditions apply to thicknesses ≥3 mm and ≤ 150 mm for long products of steel grade S450J0. The technical delivery conditions apply to thicknesses ≤250 mm for flat and long products of all other grades and qualities. In addition for flat products of qualities J2 and K2 the technical conditions apply to thicknesses ≤ 400 mm.
| | | | | | | |
| --- | --- | --- | --- | --- | --- | --- |
| C | Si | Mn | P | S | N | Cu |
| 0.17 | - | 1.40 | 0.025 | 0.025 | - | 0.55 |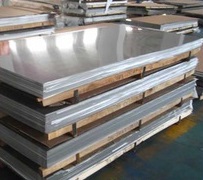 S235J2 is a low carbon, high tensile strength structural steel which can be readily welded to other weldable steel.
With its low carbon equivalent, it possesses good cold-forming properties. The plate is produced by fully killed steel process and supplied in normalized or controlled rolling condition.
Structural application in freight cars, transmission towers, dump trucks, cranes, trailers, bull dozers, excavators, forestry machines, railway wagons, dolphins, penstocks, pipes, highway bridges,building structures, oil and gas platforms,offshore structures, shipbuilding, power plant, palm oil equipments and machineries, fans, pumps, lifting equipments and port equipments.
Shanghai Katalor Industry Co., Ltd Is specialized in the production of steel plate, it is located in Shanghai, with advanced technology and services, if you need Carbon Steel Plate S50c, please give us a message.