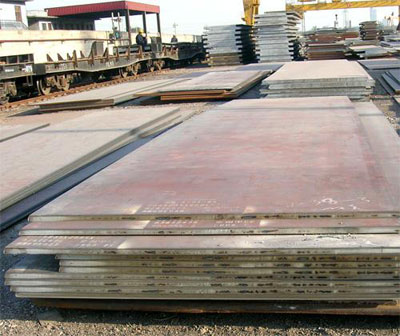 EN10113 S355N is european standard hot rolled steel products. Other materials with EN10113 S355N steel is S355JO steel, S355K2 steel, S355J2 steel, etc. S355N is alloy structural steel, 355 in S355N steel refers to the yield strength and N refers to normalization. The grade S355N is similar with Chinese standard Q345E. S355N steel plate is high strength plate. EN10113 S355N steel plate has high strength, especially in normalizing or normalized and tempered condition, S355N steel plate has higher comprehensive strength.
EN10113 S355N steel chemical composition:
Grade
Delivery condition
Chemical composition % max
C
Si
Mn
P
S
Nb
V
S355N
normalization
0.2
0.5
0.90-1.65
0.03
0.025
0.05
0.12
EN10113 S355N normalized steel mechanical properties at room temperature:
Grade
minimum Yield strength ReH,Mpa

N/mm2
Thickness, mm
≤16
>16-40
>40-63
>63-80
>80-100
>100-150
>150-200
>200-250
S355N
355
345
335
325
315
295
285
275
Grade
Tensile strength N/mm2 MPa
The minimum elongation after fracture
L0=5.65√S0
Thickness, mm
Thickness, mm
≤100
>100-200
>200-250
≤16
>16-40
>40-63
>63-80
>80-200
>200-250
S355N
470-630
450-600
450-600
22
22
22
21
21
21
EN10113 S355N steel application: S355N steel is mainly used for large ships, bridges, power station equipment, medium and high pressure boiler, pressure vessel, rolling stock, hoisting machinery, mining machinery and other large welding structure. Shanghai Katalor Industry Co., Ltd is a professional S355N steel plate supplier, if you have any question for S355N steel sheet, please email or call us.