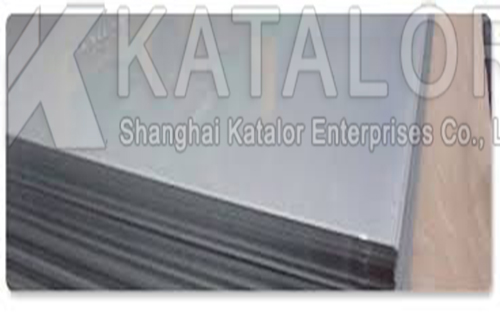 430(S43000) is a kind of ferritic stainless steel, this steel with good corrosion resistance, formability and practical mechanical properties.430 stainless steel used in specific chemical applications and automotive trim and appliance components is still its largest fields of application.
430 Chemical composition:
Carbon: 0.12 max
Manganese: 1.00 max
Silicon: 1.00 max
Chromium: 16.00-18.00
Nickel: 0.50 max
Molybdenum: 0.50 max
Phosphorus: 0.040 max
Sulfur: 0.030 max
Copper: 0.50 max
Iron: Balance
430 Physical properties:
Density, 0.28 lbs/in³, 7.74 g/cm³
Electrical Resistivity: microhm-in (microhm-cm):
68°F (20°C): 23.68 (60)
Specific Heat: BTU/lb/°F (kJ/kg•K):
32-212°F (0-100°C): 0.11 (0.46)
Thermal Conductivity: BTU/hr/ft²/ft/°F (W/m•K)
At 212°F (100°C): 15.1 (26.1)
At 932°F (500°C): 15.2 (26.3)
Mean Coefficient of Thermal Expansion: in/in/°F (μm/m•K):
32 – 212°F (0 -100°C): 5.8 x 10-6(10.4)
32 – 1000°F (0 -538°C): 6.3 x 10-6(11.4)
Modulus of Elasticity: ksi (MPa)
29.0 x 10³ (200 x 10³) in tension
Magnetic Permeability: Magnetic
Melting Range: °F (°C) 2600-2750 (1427-1510)
430 Typical applications :
Linings for dish washers, Refrigerator cabinet panels, Automotive trim, Lashing Wire, Element Supports, Stove trim rings, Fasteners, Chimney Liners.
430 Corrosion Resistance:
Grade 430 has good resistance to a wide variety of corrosive enviornments, including nitric acid and some organic acids. It attains its maximum corrosion resistance when in the highly polished or buffed condition. In general its resistance to pitting and crevice corrosion resistance is close to that of grade 304. Stress corrosion cracking resistance of Grade 430 is very high, as it is for all ferritic grades.
Phone: 0086-18317160019
TEL: 0086-21-61182423
Fax: 0086-21-61182425
E-mail: info@katalor.com
Skype: shanghai.katalor
Address : Room 301,Unit 6,lane 2500,xiupu Road,Kangqiao Industrial Area,Pudong New District,Shanghai