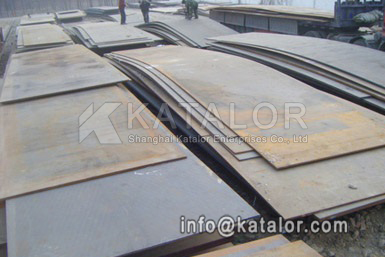 ASTM A514 and A514M-05 high-strength, low-alloy, quenched-and-tempered steels are among these materials. Although they have been available for many years, they continue to pose some distinct challenges for welders.
Welding these materials successfully is a matter of understanding some key factors, including filler metal choices and preheating and interpass heat requirements.
A514 low alloy steel is particularly well suited for wear resistant steel plates used for large tooling, digging, clearing, and scraping. Examples include scraper bars for coal mining conveyors and conveyor flights; dirt, ground and rock scraper blades and bucket scrapers for large mining and farm implements, and for the many wear plates, screen plates, and wear bars that are required to take the punishment and abuse that large mining equipment and construction equipment demands. A514 steel is also used for lock and dam and bridge structural members.
The Chemical Composition by %
Grade

C

Mn

P

S

Si

Ni

Cr

Mo

V

Ti

Cu

Co

B

Zr

A514Gr.A

0.15-0.21

080-1.10

0.035

0.035

0.40-0.80

-

0.5-0.8

0.18-0.28

-

-

-

-

0.0025

0.05-0.15

A514
Gr.B

0.12-0.21

0.7-1.00

0.035

0.008

0.20-0.35

-

0.4-0.65

0.15-0.25

0.03-0.08

0.01-0.04

0.005

-

A514
Gr.C

0.10-0.20

1.1-1.50

0.035

0.035

0.15-0.30

-

-

0.15-0.25

-

-

-

-

0.001-0.005

-
Mechanical Properties of A514 Steel
Grade

Thickness
(mm)

Tensile strength
.ksi [MPa]

Yield strength
Min ksi [MPa]

Elongation in under 50mm,min by %

Hardness HBW

A514Gr.A

≤20
20-65

760-895
760-895

690
690

18
18

235-293

A514Gr.B

-

110-130 ksi

100 ksi, min

16 in 2 inch

235-293

A514Gr.C

≤20
20-65

760-895
760-895

690
690

18
18

235-293