ASTM A514 Grade P Common structural steel plate, High strength steel sheet A514GrP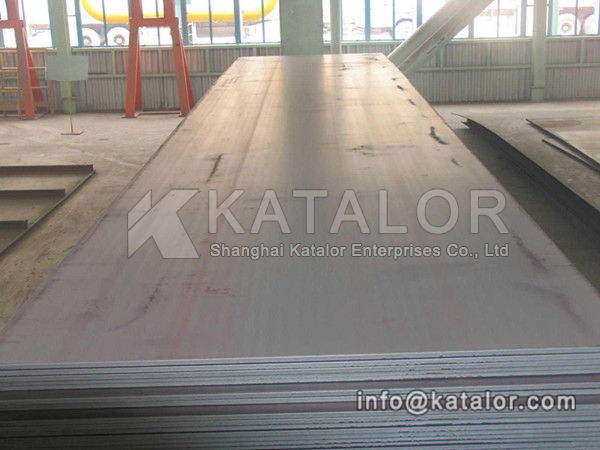 Additional technical services for A514 Grade P Common structural steel plate from Katalor which including Heat treatment(Normalized, TMCP, Quenched and Tempered,N+T), Z-test (Z15,Z25,Z35), Ultrasonic Examination, Low temperature impacting test, DWTT,PWHT and cutting&welding into special pieces for end users.
Steel Standard:ASTM A514/A514M
Rolling Type:High strength steel plate,Quenched and Tempered steel plate
Thickness:6mm-300mm
Width:1500mm-4200mm
Length:3000mm-18000mm
Heat Treatment:Quenching and Tempering
Carbon Equivalent: Ceq = 【C+Mn/6+(Cr+Mo+V)/5+(Ni+Cu)/15】%
Grade

A514 Grade P Mechanical Property

Thickness

Yield

Tensile

Elongation

A514 grade P

mm

Min Mpa

Mpa

Min %

20

690

760-895

18

20-65

690

760-895

18

65-150

620

690-895

18
Chemical composition for A514GrP alloy steel (Heat Analysis Max%)
Main chemical elements composition of A514GrP

C

Si

Mn

P

S

B

Cr

Mo

Ni

0.12-0.21

0.20-0.35

0.45-0.70

0.035

0.035

0.001-0.005

0.85-1.20

0.45-0.60

1.20-1.50
Katalor is a manufacture manger, so we could promise the delivery time and the competitive price comparing with other company. We sincerely hope new and old customers come to visit our mill and inquiry from Katalor. If you need ASTM A514 Grade P steel, please give us a message.
TEL:0086-21-61182423
Fax :0086-21-61182425
E-mail:info@katalor.com
Phone:0086-18317160019