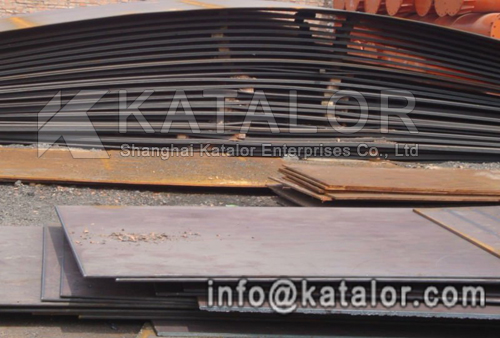 A517 Grade P is a high strength quenched and tempered alloy steel plates intended for use in fusion welded boilers and other pressure vessels.
ASTM A517 standard specification for pressure vessel plates, alloy steel, high-strength, quenched and tempered.
Alloy steel plate A517 Grade P is one kind steel grade in steel standard ASTM A517/A517M which standard specification for pressure vessel steel plates,alloy steel plates,high strength and Quenched and Tempered steel plates.
When rolling high strength steel plate A517 Grade P,Katalor would do heat treatment by heating to not less than 900 centigrade,quenching in water or oil and tempering at not less than 620 centigrade.Steel marking practice for pressure vessel steel plate ASTM A516GrP shall be killed and shall conform to the fine austenitic grain size requirement of steel specification A 20/A 20M.
Steel Name:A517 GR P Quenched and Tempered steel,A517GRP Structure steel plate
Steel Grade:A517 Grade P
Thickness:6mm-450mm
Width:1500mm-4200mm
Length:3000mm-18000mm
Surface Treatment:Shot blasting and painting or coated
A517 grade P Chemical Composition
Grade

The Element Max (%)

C

Si

Mn

P

S

Ni

A517 grade P

0.10-0.23

0.18-0.37

0.40-0.78

0.035

0.035

1.15-1.55

Cr

Mo

B

0.79-1.26

0.41-0.64

0.001-0.005
Mechanical Properties of A517Gr.P at ambient temperature
Grade

Thickness

Yield
Strength

Tensile Strength

Elongation

Charpy V Notch Impact Test

Degree

Min Value

A517Gr.P

mm

Min Mpa

Mpa

Min %

-

J

5≤t≤65

690

795-930

16%

-

65≤t≤150

620

725-930

14%

-

Note: Impact energy for impact test is on longitudinal
Shanghai Katalor Industry Co., Ltd supply high quality carbon steel plate for boiler and pressure vessel fabrication which is ideally suited to the high standards set by the oil, gas and petrochemical industry, with advanced technology and services, If you want to know price in A517 Grade P from our Katalor, please inquiry us by email or calling.
TEL:0086-21-61182423
Fax :0086-21-61182425
E-mail:info@katalor.com
Phone:0086-18317160019