Thermo-Mechanical Control Processing rolling oil and offshore steel plate API 2WGr50T. Depending on customer preference, API 2W can normally be directly substituted for plate ordered to API Specification 2H or API Specification 2Y.
In many situations, customers actually prefer API 2W because due to its low-carbon content it offers superior weld ability to that of either API 2H or API 2Y. Katalor's API 2W Grade 50 plate is licensed by the American Petroleum Institute to carry the API monogram.
Available Size: thickness: 5-300mm, width: 600-4200mm, length: 3000-18000mm
Rolling Type: Oil and offshore platform steel plate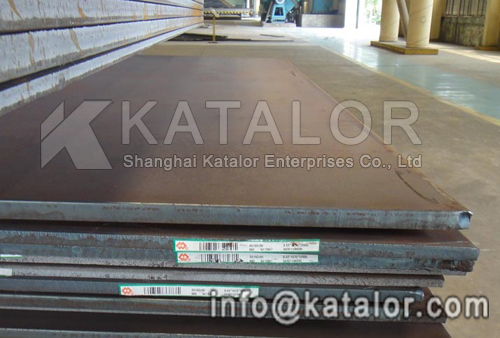 Mechanical property for API 2WGr50T Platform steel:
Thickness (mm)

API 2WGr50T

≤ 25

> 25

Yield strength (Mpa)

345-517

345-483

Tensile strength (≥Mpa)

448
Chemical composition for API 2WGr50T Platform steel (Ladle Analysis Max%)
Main chemical elements composition of API 2WGr50T

C

Si

Mn

P

S

Cr

Mo

0.16

0.05-0.50

1.15-1.60

0.03

0.01

0.25

0.08

Nb

V

Ti

Ni

Al(tot)

N

0.03

-

0.003-0.02

0.75

0.02-0.06

0.012
ShangHai Katalor offers API 2W Grade 50T plates for supply to clients on a global basis. For more information about API 2W Grade 50T including technical details and to receive a detailed and competitive quotation, please contact us.
TEL:0086-21-61182423
Fax :0086-21-61182425
E-mail:info@katalor.com
Phone:0086-18317160019