Boiler and pressure vessel steel plate DIN17155 17Mn4, DIN 17155 17Mn4 steel price
DIN17155 17Mn4 steel is a kind of material for boiler and pressure vessel steel. So, DIN17155 17Mn4 steel is used above all for manufacturing boilers, pressure vessels and pipes transporting hot liquids.
Boiler and pressure vessel steel plate 17Mn4 is under steel standard DIN 17155.Currently more and more users use boiler steel plate P295GH replacement of boiler steel plate 17Mn4 which both owned the minimum yield strength at 290 Mpa and tensile strength within 460-580Mpa.
Application: DIN17155 17Mn4 steel Widely used in petroleum industry, chemical industry, power station, boiler with making tank, on. equipment or hardware like reactor, heat exchanger, seperator, sphere, liquid gas storage nuclear-power reacto, pressure vessel, boiler drum, liquefied petroleum gas pot, volute and so on.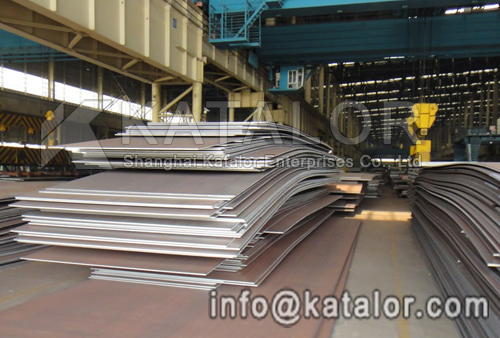 17Mn4 steel plate size:
Thickness: 6MM to 300MM,Width: 1500mm to 4050mm, Length: 3000mm to 15000mm
Chemical composition for 17Mn4 Boiler steel (Heat Analysis Max%)
Main chemical elements composition of 17Mn4

C

Si

Mn

P

S

Al(total)

Cr

0.14-0.20

0.40

0.90-1.40

0.035

0.030

≥0.02

0.25

Cu

Mo

Nb

Ni

Ti

V

0.30

0.10

0.01

0.30

0.03

0.03
Mechanical properties
Grade

Type

Thickness mm

Yield strength Mpa(min)

Tensile Strength MPa

Elongation % (min)

Impact Energy (KVJ) (min)

-20°

0°

+20

17 Mn 4

Normalized

≤16 16>to≤40 40>to≤60 60>to≤100 100>to≤150 150>to≤250

295

460-580

21

27

34

40

290

285

260

235

440-570

220

430-570
Shanghai Katalor have much experience in manufacture DIN 17155 17Mn4 steel, We could give the fastest delivery time on the base of our competitive price directly from our mill.If you need DIN 17155 17Mn4 steel plate,you can contact us,we will give you the best price of DIN 17155 17Mn4 steel plate.
TEL:0086-21-61182423
Fax :0086-21-61182425
E-mail:info@katalor.com
Phone:0086-18317160019