EN 10025 S355ML steel have the good weldable and fine grain structural property. So, it can be used into the steel structural or welded vessel or pressure vessels. At the same time, S355ML also can be used in the offshore or any other applications which request the high tensile strength.
The fine-grain structural steel grades of this series can be perfectly welded both manually and using automatic equipment by means of all known welding processes, not least due to their reduced carbon content and the low carbon equivalent value.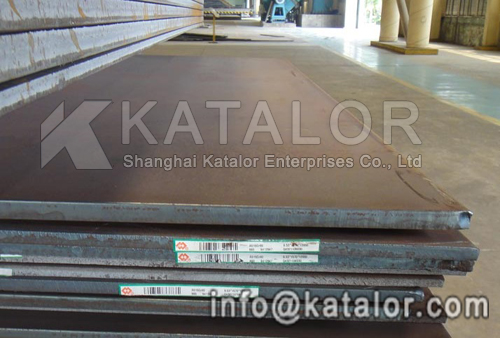 Chemical composition for S355ML Structural steel (Heat Analysis Max%)
Main chemical elements composition of S355ML

C

Si

Mn

P

S

Nb

V

0.14

0.50

1.60

0.025

0.020

0.05

0.10

Al(total)

Ti

Cr

Ni

Mo

Cu

N

≥0.02

0.05

0.30

0.50

0.10

0.55

0.015
S355ML TMCP steel Mechanical properties in room temperature
Grade

Min Yield strength in different thickness

Min tensile strength in different thickness

Min Elongation in

different thickness

≤

16

> 16

≤40

> 40

≤63

> 63

≤80

> 80

≤100

> 100

≤120

≤40

> 40≤63

> 63≤

120

S355ML

355

345

335

325

325

320

470-630

450-610

440-600

22
Katalor keeps more than 10,000 tons S355ML steel plates in stock each month. We can meet our customer's any quantity request. Anyway, if you want to find S355ML steel supplier, S355ML steel manufacturer, S355ML steel exporter, please contact Katalor steel's sales team. We will give you the S355ML competitive price, S355ML good quality and best service from us.
TEL:0086-21-61182423
Fax :0086-21-61182425
E-mail:info@katalor.com
Phone:0086-18317160019