EN 10028-6 P460QL1 pressure vessel steel plate shall be done low temperature impacting test when rolling at minus 20 centi degree. For pressure vessel steel plate P460QL1, Ultrasonic test have to be done after rolling and the test values and result shall be indicated in our mill certificates.
Our mill would issue the original MTC (Mill test certificate) under format EN 10204 3.1 if without the third party inspection. When our end customers ask for doing the third party inspections, we would like to try our best to assistance the third party agents to finish the goods inspection, and finally owned their stamped and endorsed on our original MTCs.
EN10028-6 P460QL1 Pressure Vessel And Boiler Steel Plate are used in Pressure Vessel, Boiler, Storage Tanks and Heat Exchanger in Oil, Gas Project.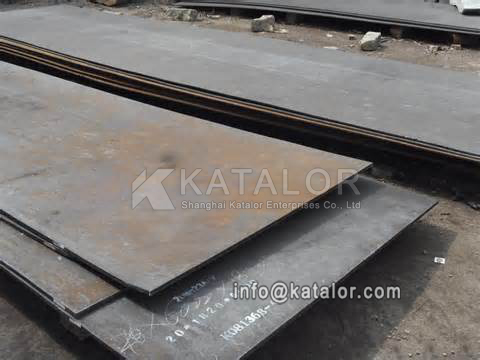 Chemical composition for P460QL1 pressure vessel steel (Heat Analysis Max%)
Main chemical elements composition of P460QL1

C

Si

Mn

P

S

B

N

Cr

0.18

0.50

1.70

0.020

0.010

0.005

0.015

0.50

Cu

Mo

Nb

Ni

Ti

V

Zr

0.30

0.50

0.05

1.00

0.03

0.08

0.05
Mechanical property for P460QL1 pressure vessel steel:
Grade

Thickness

Yield

Tensile

Elongation

P460QL1

mm

Min Mpa

Mpa

Min %

6-50

460

550-720

19%

50-100

440

550-720

19%

100-150

400

500-670

19%
As a professional P460QL1 steel plate supplier, we promise we can offer you the qualified P460QL1 steel. Besides that, we could promise the delivery time and the competitive price. Any need in P460QL1 steel plate price or P460QL1 steel plate technical conditions, please contact us freely.
TEL:0086-21-61182423
Fax :0086-21-61182425
E-mail:info@katalor.com
Phone:0086-18317160019