EN10028-6 P500QL1 high strength boiler steel, En10028 P500QL1 pressure vessels steel
High strength steel plate P500QL1,also named as boiler steel plate P500QL1 because these steel plates are mainly used to built high temperature steel boilers and other pressure vessels.When rolling pressure vessel steel plate P500QL1,the low temperature impacting test shall be done at minus 40 centigree, Ultrasonis examination,heat treatment under quenched and tempered.
Katalor exported thousands tons pressure vessels each month all over the world, especially to southeast Asia, middle east and South America.
Main application of EN10028-6 P500QL1 heat exchanger steel plate are used to build boilers and pressure vessels such as petroleum, chemical industry, power plants.
P500QL1 steel plate specification:
Grade: P500QL1 Standard: EN10028-6
Thickness*Width*Length 5-200mm*1220-4200mm*5000-18000mm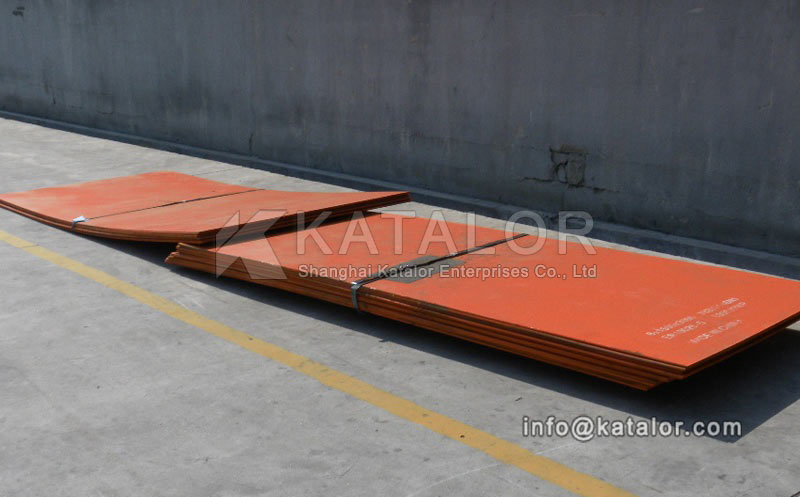 Chemical composition for P500QL1 pressure vessel steel (Heat Analysis Max%)
Main chemical elements composition of P500QL1

C

Si

Mn

P

S

B

N

Cr

0.18

0.60

1.70

0.020

0.010

0.005

0.015

1.00

Cu

Mo

Nb

Ni

Ti

V

Zr

0.30

0.70

0.05

1.50

0.05

0.08

0.15
P500QL1 steel mechanical properties:
Yield strength (Mpa)

Tensile strength (Mpa)

t≤50

50<t≤100

100<t

t≤100

100<t

500

480

440

590-770

540-720
More information about P500QL1 steel plate, please contact us and let us know your required specification, the best P500QL1 steel plate price will be quoted in shortest time.
TEL:0086-21-61182423
Fax :0086-21-61182425
E-mail:info@katalor.com
Phone:0086-18317160019