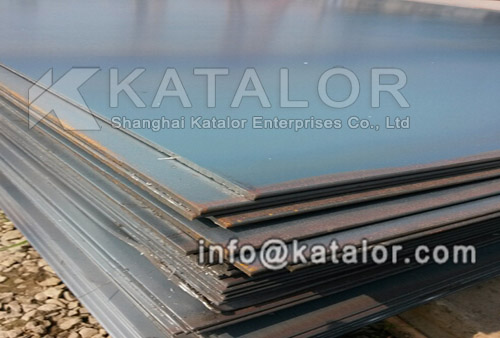 Grade EH36 belongs to steel standard ASTM A131/A131M which covers structural steel plates, shapes, rivets and bars for use in ship &vessel constructions. Shipbuilding Steel Plate EH36 is widely used in the shipbuilding industry both in hull construction and in the superstructure itself.
ASTM A131 Grade EH36 ChemicalComposition(%):
Grade/Material

Element

Composition(Max-A,Min-I)

A131GradeEH36/A131EH36

C

0.18

Mn

0.90-1.60

Si

0.10-0.50

P

0.035

S

0.035
Grade EH36 Steel Plate MechanicalProperties(Mpa)
Grade/Material

TensileTest

Ksi/MPa

A131GradeEH36/A131EH36

TensileStrength

71-90/490-620

YieldStrength

51/355

Elongation

I:19%

ImpactTest(ifany)

-40℃
Shipbuilding Steel Plate ASTM A131 Grade EH36 Specification
Thickness:4mm-200mm;
Width:1000mm-4000mm;
Length:4000mm-12000mm.
Besides ,the size can be customized.
Production ability:10000 Tons Per Month.
Production Way:Hot Rolled
ASTM A131 Grade EH36 Additional Condition:
UT (Ultrasonic examination),AR(As Hot Rolled only),TMCP(Thermal Mechanical Control Processing), N(Normalized),Q+T(Quenched and Tempered),Z Direction Test(Z15,Z25,Z35) , Charpy V-Notch Impact Test, The Third Party Test (such as SGS Test), Coated or Shot Blasting and Painting.
Shanghai Katalor Enterprises Co., Ltd is a big complex combined steel stockist whose business related with trade, processing, storage and transportation. we are specialized in supplying Grade EH36 . We have the good quality and advanced equipment, our products meet the state standard, and also available for customers' requirement. If you have any need of Shipbuilding Steel Plate ASTM A131 Grade EH36, please do not hesitate to contact us by email info@katalor.com, we can do our best to help you!