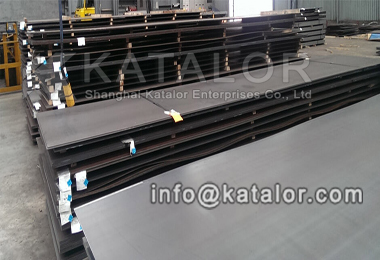 1, Cold rolled into sections to allow local buckling of cross section, can make full use of block after buckling bearing capacity; Hot rolling is not allowed some local buckling.
2, The cause of hot-rolled and cold-rolled steel residual stress is different, so the distribution of cross section also have very big difference. Cold-formed thin-walled steel section of the residual stress distribution is curved, hot steel welding residual stress distribution in steel or part is a thin film.
3, The torsional rigidity ratio of hot rolling cold rolling, so hot rolling torsion performance is better than that of cold rolled steel.
As the famous steel manufacturer and supplier in china, katalor's advantage is excellent team, rich steel process equipment and steel products with good quality, and the lower price. we not only can produce steel raw material, but also can process into steel machine parts. The monthly export volume of katalor are reached more than one million tons, and the rich stock that praised by overseas buyers, if you are interested in our products, please do not hesitate to contact us immediately.
Phone: 0086-18317160019
TEL: 0086-21-61182423
Fax: 0086-21-61182425
E-mail: info@katalor.com
Skype: shanghai.katalor
Address : Room 301,Unit 6,lane 2500,xiupu Road,Kangqiao Industrial Area,Pudong New District,Shanghai