EN 10025-4 standard is for weldable fine grain structural steels in thermomechanical rolled condition. It covers steel grade S275M, S275ML, S355M, S355ML, S420M, S420ML, S460M, S460ML.
Steel plate S420ML is low alloy steel plate which is mainly used to manufacture the plants of factory,the common con-structure and construction machinery and equipment. For S420ML structural steel,M is for heat treatment under TMCP.For the thickness equal and below 16mm,the minimum yield strength of steel plate S420ML shall be 420 Mpa,and tensile strength of steel plate S420ML shall be within 520-680 Mpa.Now Katalor can offer the maximum thickness of S420ML steel reach till 400mm and with the unit weight about 28 metic tons.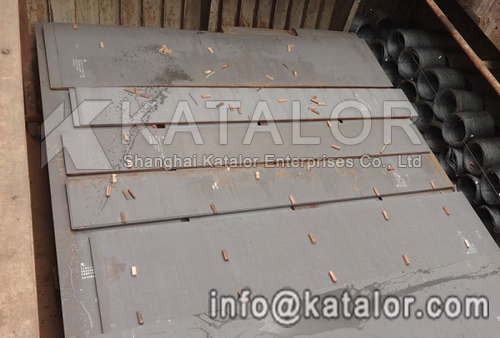 Chemical composition for S420ML Structural steel (Heat Analysis Max%)
Main chemical elements composition of S420ML

C

Si

Mn

P

S

Nb

V

0.16

0.50

1.70

0.025

0.020

0.05

0.12

Al(total)

Ti

Cr

Ni

Mo

Cu

N

≥0.02

0.05

0.30

0.80

0.20

0.55

0.025
S420M TMCP steel Mechanical properties in room temperature
Grade

Min Yield strength in different thickness

Min tensile strength in different thickness

Min Elongation

in different thickness

≤

16

> 16

≤40

> 40

≤63

> 63

≤80

> 80

≤100

> 100

≤120

≤40

> 40≤63

> 63≤

120

S420M

420

400

390

380

370

365

520-680

500-660

480-640

19
Katalor keeps more than 10,000 tons S420ML steel plates in stock each month. We can meet our customer's any quantity request. Anyway, if you want to find S420ML steel supplier, S420ML steel manufacturer, S420ML steel exporter, please contact Katalor steel's sales team. We will give you the S420ML competitive price, S420ML good quality and best service from us.
TEL:0086-21-61182423
Fax :0086-21-61182425
E-mail:info@katalor.com
Phone:0086-18317160019